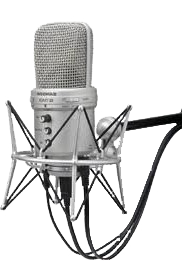 I was an average student in school. This frustrated my mom, and she was always looking for something to encourage me in my learning. In third grade, I brought home a report card in the middle of the year with average grades… again…except for one that caught her eye. "Reads with expression!" she exclaimed with a smile to me… I got an excellent rating in that. In my reading group in class where we'd take turns reading the text out loud, I tried to put some pizzazz into what the characters in the story were quoted as saying. After all, my classmates on the playground never talked in a stilted, droning fashion, and neither did the cartoon characters I adored on TV!
I loved listening to the radio. The deejays seemed to have a LOT of fun playing the hits, cracking jokes, and excited about sharing what was going on in the community… They were bigger than life! That sounded like fun, so I decided I wanted to be on the radio, too. I mimicked favorite jocks and tried to duplicate their energy. And I liked the idea of playing all my favorite songs for the world!
I went to Benson Polytechnic High School in Portland, Oregon, where they had a radio station licensed to the Portland Public Schools, KBPS. It was there I got my training…and learned I didn't get to play all my favorite songs! Instead, I learned the basic principles of radio broadcasting…and later found my first job censoring talk shows on weekend afternoons, playing commercials and reading the news. That led to jobs at other stations over the years, playing top 40, easy listening, adult contemporary, and country music. It culminated in spending 8-1/2 glorious years in Tempe, Arizona working for the Buck Owens organization at the Real Country network, over nearly 175 affiliates.
When the Owens organization sold their half of the network back to ABC, the studios moved to Dallas. I stayed behind because my boys had started matriculating through high school…and I was now a desert rat in Arizona. Besides, when I worked in Oklahoma City, I came to love the people but found I was allergic to tornadoes...
As my job moved away, another door opened…and my career behind the microphone continued narrating e-learning training courses for KnowledgeNet and its successor, Thomson NetG. In the last 18 months of this eight-year span, I got the chance to realize another dream…starting up my home recording studio. After Thomson decided to get out of the e-learning space and sold out to SkillSoft, my term with the company ended, and VoxMark Voiceovers was born.
Today, I still narrate e-learning courses, sales presentations, HR & technical training materials, and the occasional radio commercial. And I've had the chance to pursue another passion: I'm the public address announcer for Oakland Athletics spring training baseball and Major League Baseball's Arizona Fall League. And I still answer to my radio name, Mark Andrews, as well as my legal name, Mark Budwill.
Growing up in the Pacific Northwest, I've been richly blessed with a neutral accent and, so I'm told, a voice that is easy and pleasant to listen to. If you have some well-chosen words for me to say, I have a microphone…How can I put my talent to work for you?